One day, we peered through the looking glass…
And saw images of our natural world that would change how we viewed everything.
We saw patterns that reflected nature's simplicity and contradictions. They were orderly, rhythmic, dramatic and dynamic. They were beautiful. And they had to be shared.
Annie Bradbrook's debut collection, ATLANTIC, is comprised of six designs – five of metals, and one of water, captured under a light microscope at magnifications as high as a thousand times their actual size.
These images are combined together with the use of traditional art techniques to shape nature—from its most elemental form—into pattern. They are defined and redefined into final impressions that bring nature to life.

Image Above: Annie (on right) co owner
and creative director, and Adriana
(on left) photoshop wizard/graphic designer
Our Logo and Rebrand
Carousel, from the ATLANTIC collection, is a design comprised of circling animals and aquatic life. The pattern first emerged from a micro image of steel as shapes in the clouds, and then slowly, the lines became more clearly defined, revealing a fantastic carousel. Some of the original animal forms were not altered for the final design including the dog, the rhino, and the seahorse (splashing waves were added). The seahorse symbolizes patience, serenity, perspective and persistence. And at Annie Bradbrook we are strong believers of all things small and yet larger than life, just like the seahorse, as we craft our wallcoverings out of microscopic images of nature herself. Our goal is that our clients feel as inspired and surrounded by nature as we are!
When we began our design company, based on the love-at-first-sight-blind-inspiration that knocked us over when we were first shown micro-images of metal, Imagine Studios Inc. literally, was the perfect fit.  Today our company has grown in many directions from these metal microstructure origins and their images. As it became more of a personal thumbprint, our brand name needed to reflect this. The story of how we arrived at the name, Annie Bradbrook, is a good one, as far as family lore (love, scandal, exile, against-all-odds happy endings) goes. To read more about this story, visit Our Blog Page
With our rebrand from Imagine Studios Inc. to Annie Bradbrook, our name breaks out of the box of seahorses in our previous Imagine Studios Inc. logo, and yet the curls of their tails remain as a nod to our love and appreciation of this magical creature. What we love about our new logo is that it represents our company: elegant, nature inspired, and a little whimsical too.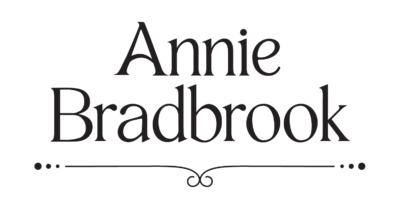 OUR PURPOSE and PRODUCTS
We are just over the moon in cartwheel town about the exciting things planned for our new chapter.  We will be adding new designs and colorways in the months ahead. In March, we will be moving west with new representation: Wall Tawk in Denver, Colorado and online showroom, Bellvine, based in California. They will be joining our incredible east coast force: Owen Design Lines, Karen Saks Showroom, House of Whitney Studio, and Designer's Market of Richmond . What hasn't changed is our love for, and commitment to sustainable design, and, of course, all things animal and planet-friendly.
We are passionate about making the world a bit more beautiful, and have partnered with Twenty2 who shares our commitment to meet or surpass the highest sustainability standards.
In our effort to minimize or eliminate waste, our products are printed on demand and not sold in rolls.
Annie Bradbrook.'s wallpapers and grasscloths are made and digitally printed in the USA using water based, eco friendly pigments that are VOC free and completely non-toxic.
Did we mention the seahorse is also symbolic of generosity? We donate a percentage of our profits each year to environmental and animal charities. Keep an eye out for Bill, our ATLANTIC collection supermodel, and bulldog rescue.